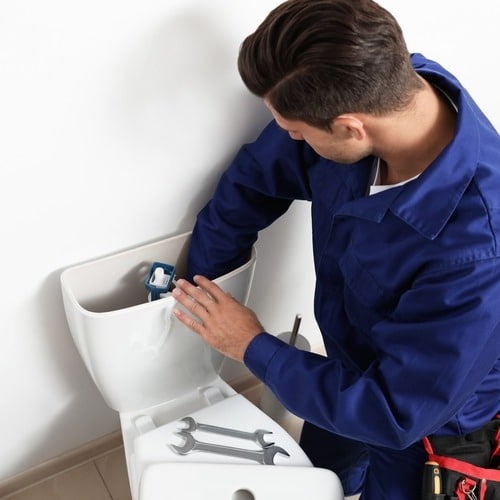 Professional Installations and Repairs
The toilet in your home or building likely sees almost daily use. Because of that, there are numerous things that can go wrong, and at some point, a toilet installation or toilet repair will be necessary. Whether it's because your toilet won't flush or more serious problems such as cracks in the porcelain of your toilet, it's also important to get the necessary installations or repairs taken care of as quickly as possible. When you've found yourself seeking toilet repair or toilet installation in Allen, TX or the surrounding area, you can count on the team at Thorough Plumbing to provide you with the high-quality assistance you require. To learn more about how our professionals can help, we invite you to call today at 469-253-5530.
When to Schedule Toilet Installation and Repairs
The first factor to take into account when you find yourself seeking toilet installation or repair is the kind of problem you are experiencing. The toilet tank contains many different parts that may all need to be repaired or replaced at some point. These parts include the flapper, the fill valve, the float, and the flush lever. When your toilet is no longer functioning the way that it should be, you need the help of a professional to identify the problem you are experiencing and to provide the toilet repair necessary to keep your toilet functioning the way it should be.
However, some situations may call for work that is much more extensive than a simple repair. Modern-day porcelain toilets can experience many different kinds of damage, and this damage may sometimes call for a new toilet installation to ensure it continues operating the way that it should be. You may also seek a new toilet installation if you've found yourself constantly seeking repairs for your current toilet. A toilet installation may also be a good idea because your current toilet is nearing the end of its lifespan and has experienced a lot of wear and tear. 
Regardless of the problems you are experiencing, the team at Thorough Plumbing can be there right away to provide a full inspection. From there, we will work with you to find the best solution and to provide a quick toilet repair or toilet installation depending on your needs.
Reach Out Today
We're ready to help if you're seeking toilet repair or toilet installation in Allen, TX or the surrounding area. We also offer services such as plumbing video camera inspection and emergency plumbing repair. Call today at 469-253-5530.