Professional Services for Homes and Buildings
Your plumbing system is incredibly complex, being made up of numerous parts that all need to be working correctly for the best health of your system. Issues such as damage to a part of your plumbing system or a part of your system that's experienced significant wear and tear can all lead to far more serious issues if not taken care of. This is why it's important to have the help of an experienced professional to keep your plumbing in the best shape possible, regardless of the problems you may be dealing with. When you need a plumber in Allen, TX or the surrounding area, the professionals at Thorough Plumbing can be there to help. Give us a call today at 469-253-5530 if you would like to learn more about how our experienced plumbing professionals can help you.
Quality Services We Provide
Help With All Your Plumbing Services
We can be there whenever an issue arises with your plumbing system, ensuring you always get the assistance necessary to keep your system working properly. From help with the pipes that make up your plumbing system to assistance with the various fixtures and appliances attached to your system, we're ready to lend a hand and ensure you never have to deal with far more serious issues. Our professionals are ready to provide high-quality plumbing services if you are seeking a plumber in your city.
Our Process
Contact us and schedule a consultation.

We evaluate the issue and provide the services you need.

Rest easy knowing your home or building is protected.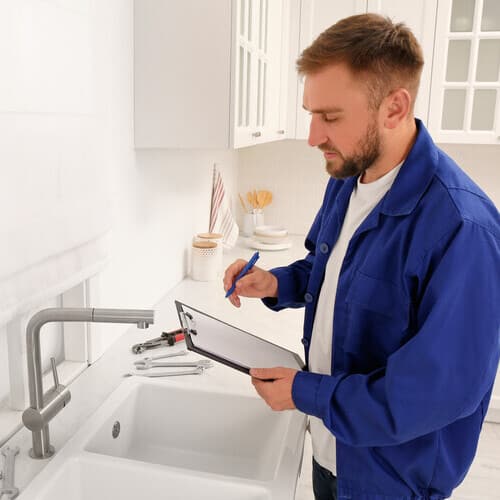 Professional Plumbing Inspections
Among the wide variety of services we offer, our team can be there to help with plumbing video camera inspections. These inspections allow us to quickly get to the source of any problems you may be experiencing with your system, including issues such as clogged drains. These inspection services help us ensure we are able to quickly take care of any problem you may be having without being any more invasive than is necessary to get your plumbing system in the best shape possible.
Help With Your Plumbing Emergency
Among the wide variety of plumbing services that we can provide, our team can lend a hand with emergency plumbing repairs. We are always available to answer your call right away when a problem arises, helping to ensure you don't sustain any more serious damage due to issues such as leaks. With our assistance, you can take care of any plumbing emergency that arises, whether it is a leak or an issue such as a damaged plumbing fixture. When you need a plumber in Allen, TX or the surrounding area, just reach out to us. Call 469-253-5530.